Washington Historical Research
Margaret Shannon
Research Historian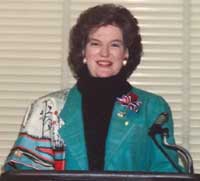 Margaret Shannon is an independent Research Historian who is an authority on World War II documentation in the textual and visual archives of the principle research repositories in Washington, New York, London, and Berlin, as well as many specialized and obscure collections worldwide.
Ms. Shannon founded Washington Historical Research in 1978 following a distinguished career in legislative and political posts. As a result of intensive research on impeachment procedures in 1974 for a US senator, she discovered there was a critical need for textual and image research conducted by an independent research historian with the flexibility to meet the individual needs of prize-winning authors, journalists, museums, libraries, documentary television producers, government agencies, law firms, private historical institutions, and even musical organizations.
For nearly three decades, she has curated and/or researched exhibitions for The Library of Congress, Smithsonian, Office of Personnel Management, and Washington National Cathedral. She has worked extensively in the holdings of the US and UK National Archives, Library of Congress, presidential libraries, and university archives. She was co-curator of the 1988 Library of Congress exhibit, "Nazi Book Burnings and the American Response," expanded and remounted in 2003 at the US Holocaust Memorial Museum as "Fighting the Fires of Hate: America and the Nazi Book Burnings."
From 1997 to 2004, she conducted groundbreaking research on behalf of the Simon Wiesenthal Center. She was assistant producer of the CBS 60 Minutes II documentary, "Hitler's Lake," a joint project between CBS and the Center to locate records hidden deep in Austria's Lake Toplitz. After the broadcast on November 21, 2000, she began collaboration with Lawrence Malkin, an internationally-known journalist, on Krueger's Men: The Secret Nazi Counterfeit Plot and the Prisoners of Block 19 (Little Brown & Luebbe Verlag, 2006). Previously, she documented the Odyssey of the 41 Glassmakers (Schott Glaswerke, Mainz) and recreated through documents every bombing raid over Salzburg for Bomben auf Salzburg (Archiv der Stadt Salzburg, 1995). She has undertaken similar projects for American companies and individuals, including those seeking to resolve issues of Nazi looted art and buildings. As image research historian for Tokyo Broadcasting System's first broadcast in high-definition television, she researched the origins of digital cryptography during the Battle of Midway using newly-declassified cryptographic intercepts in the US National Archives.
Margaret Shannon is a graduate of historic Transylvania University in Lexington, Kentucky, where she majored in history and music. Among her honors were the Lampas Leadership and Phi Beta Outstanding Musician Awards. She was a White House Intern under Presidents Kennedy and Johnson, and later helped establish the newly enacted Appalachian Regional Commission. Beginning in 1970, she was a speechwriter, researcher and writer for Democratic National Committee Chairman Lawrence F. O'Brien, and served as staff director of the Democratic Policy Council (chaired by Hubert H. Humphrey) and the 1972 Democratic Platform Committee. Following the 1972 presidential campaign, Senator Harold E. Hughes (D-IA) tapped her as his legislative assistant and speechwriter. Her portfolio grew to include procedural briefings on a possible Senate impeachment trial of President Nixon and staffing Hughes in his role as floor-leader of opposition to the reinstatement of a post-Furman Federal death penalty statute. When the senator retired in 1975, she was asked by Senator Jennings Randolph (D-WV) to manage congressional oversight hearings of the Appalachian Regional Commission. She was the first female professional staff member of the Senate Committee on Environment and Public Works' Subcommittee on Regional and Economic Development. In 1976, she was appointed to the Commission as Director of Legislative Policy Analysis to implement the legislative changes. Then, in 1978, at the urging of author Catherine Marshall, widow of the famed Senate chaplain, Peter Marshall, she founded Washington Historical Research, whose clients today include leading academic and popular historians, journalists, and television documentarians in the US, UK, and Germany. She is currently writing a history of US Senate chaplains with the Rev. Dr. Lloyd J. Ogilvie as coauthor.
Ms. Shannon also serves as curator of the Rare Book Library at Washington National Cathedral, where she is a frequent contributor to its magazine, Cathedral Age. In 1997, she curated a major presidential inaugural exhibition, "So Help Me God," that documented presidential visits to the Cathedral since 1898. She combines her love of historical research and music as the founding editor of Prelude, the award-winning scholarly pre-concert study guide of the Cathedral Choral Society, for whose performances she has been program annotator since 1993. In December 2001, she was awarded the Society's 60th Anniversary Medallion for Outstanding Achievement. She maintains an active career in the Washington metropolitan area as a professional choral musician, and guest organist/choirmaster in Episcopal and Anglican churches.